The Sakya Lineage
The Sakya tradition is one of the four major religious traditions that existed in Tibet. It rose to play a significant role in the development and spread of the new Tantras that came to Tibet in the 11th century. During the 13th and 14th centuries, the holders of the Sakya tradition ruled over Tibet. Although its political stature gradually declined over the centuries, emphasis on its unique religious traditions continued to be nurtured and sustained. Consequently the Sakya tradition strengthened and flourished and produced many great and distinguished practitioners, saints, and scholars.
The origins of the Sakya tradition are closely connected with the ancestral lineage of the Khön family: a family which itself originated from celestial beings. Beginning with Khön Konchok Gyalpo (1034-1102), the founder of the Sakya tradition, the lineage continues to be unbroken to these days.
The highest teaching of the Sakya School "Lamdre" means "path and result". The term "Lamdre" suggests that this sacred system of learning summarizes the basic philosophy and practices of the Sakya school leading to the realization of the "inseparability of samsara and nirvana."

The Five Patriarchs of the Sakya Tradition (The Five Founders) and the Six Ornaments of Tibet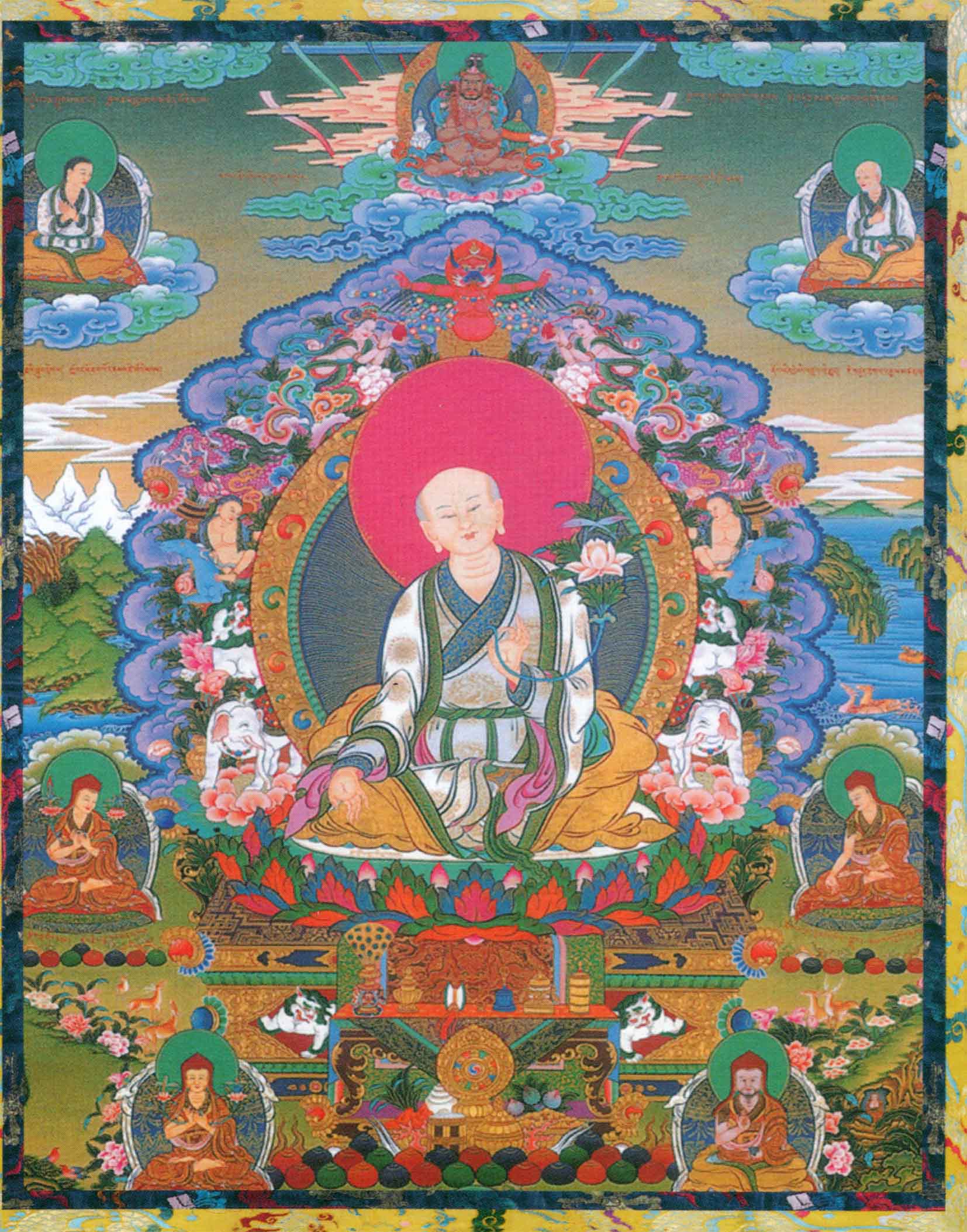 Five of the foremost luminaries of the Sakya tradition were the renowned Sachen Künga Nyingpo (1092-1158), Loppön Sonam Tsemo (1142-1182), Jetsün Drakpa Gyaltsen (1147-1216), Sakya Pandita (1182-1251), and Drogön Chögyal Phagpa (1235-1280). Together, they are regarded as The Five Patriarchs of the Sakya Tradition.
So called the Six Ornaments of Tibet were also renowned spiritual masters of the Sakya tradition. The Six Ornaments of Tibet comprised of Yakton Sengey Phel and Rongton Sheja Künrig who were reputed for their authority on the teachings of the Sutra; Ngorchen Kunga Zangpo and Zongpa Kunga Namgyal, who were highly learned in the Tantras; Gorampa Sonam Sengey and Shakya Chogden who were highly learned in both the Sutras and Tantras. It was Gorampa Sonam Sengey who also introduced the formal study of logic in the Sakya tradition.
Sub-Traditions
Within the broader Sakya tradition, a number of sub-traditions gradually emerged.
The lineages of teachings within the order established by Ngorchen Kung Zangpo (1382-1457) and subsequent masters of this order, namely Konchok Lhundrup, Thartse Namkha Palsang and Drubkhang Palden Dhondup, became known as the Ngor lineage.
The lineage of Tsarchen Losel Gyamtso (1502-1556), known as the Whispered Tsar lineage, includes secret doctrines such as the greater or lesser doctrines of Mahakala, Vajrayogini, Dzambala and others, and is known as the Tsar tradition.
Among other traditions, the important one is the Dzongpa tradition founded by Dzongpa Kuna Namgyal (1432-1496).
The school of Sakya of the divine lineage of the Khön family could be compared to the main trunk of a tree, from which other schools branch out in different directions, but essentially remain connected to the source.