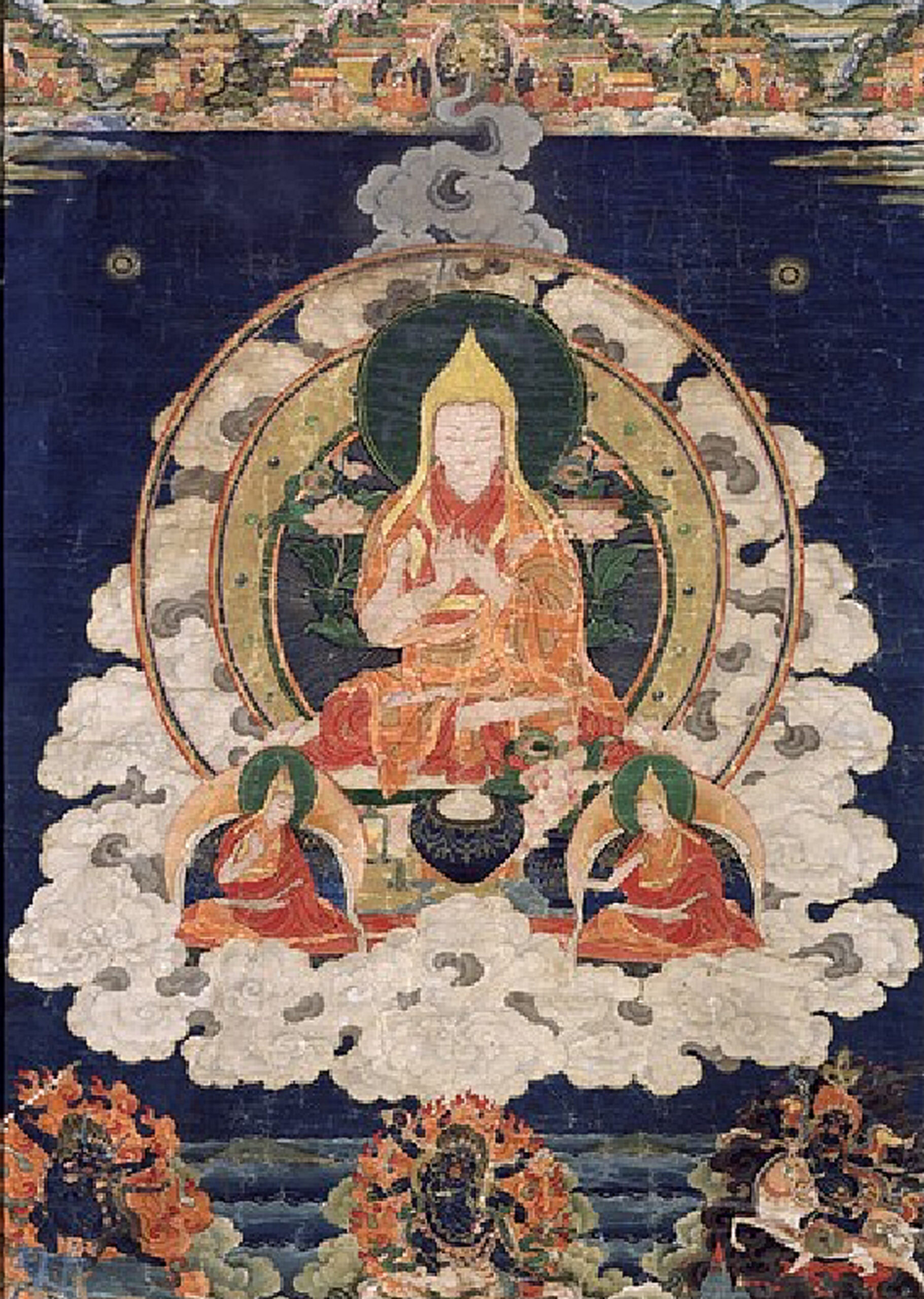 Courtesy of Himalayan Art Resources
Three Principal Aspects of the Path
A famous text by Je Tsonkhapa focusing on the three main aspects of Buddhist practice.

Online teaching
28th and 29th June 2023, 5.30 p.m.-7.00 p.m. CET
Teacher: Geshe Lharampa Nyima Gyaltsen
Language: Tibetan with interpretation into Czech




If you are interested in audio recordings, please send us an e-mail at info@siddhartha.cz. Attention, the lectures are only in Tibetan!


---
Three Principal Aspects of the Path
Three Principal Aspects of the Path (Tib. ལམ་གཙོ་རྣམ་གསུམ་) is a short text by Je Tsongkhapa Lobzang Drakpa. In fourteen stanzas the three most important aspects of the practice of Mahayana Buddhism are emphasized, i.e. renunciation (determination to be free from samsara), bodhicitta, and wisdom. You can find English translation of this text at
www.lotsawahouse.org.

Je Tsongkhapa Lobzang Drakpa
Je Tsongkhapa Lobzang Drakpa (1357–1419) was an influential Tibetan Buddhist monk, philosopher and tantric yogi. He studied with prominent teachers of various traditions, including the famous lama of the Sakya tradition Rendawa Shönnu Lodrö and the Dzogchen master Lhodrak Namkha Gyaltsän. During his life he engaged in extended meditation retreats. Although he lived simply as a monk, he was known as a great scholar and meditator throughout Tibet and China. In all, he wrote 210 treatises. He emphasized the combination of the path of Sutra and Tantra and especially the unification of the view of the Middle Path with the practice of the highest Yoga Tantra. His activities led to the formation of the Gelug tradition of Tibetan Buddhism.

---
Geshe Lharampa Nyima Gyaltsen
Geshe Lharampa Nyima Gyaltsen is a highly respected scholar of Buddhist philosophy and a distinguished graduate of the Sera Je monastery in South India. He has dedicated over two decades to studying and practicing Buddhism, earning the highest academic degree in the Gelug tradition and achieving the Rigchen Tsonglawa title for being the top graduate of his class.